New Album 2018
"La terza via -The third side of the coin"
BluJazz (USA)

DIGITAL STORES:
 iTunes, AMAZON, SPOTIFY, CD Baby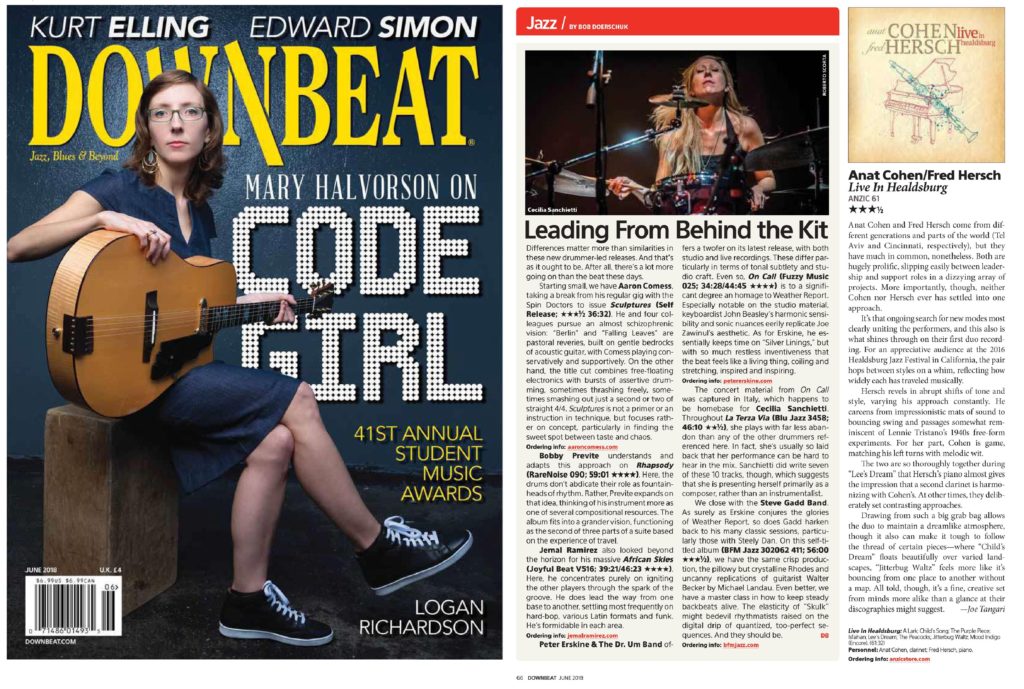 "This is what jazz is all about anyway: music that reaches the deep crevices of the soul, music that uplifts and fortifies the spirit, brings light into darkness, turns despair in hope, heals our pain and reintroduces love on the most intimate level. This ladies and gentlemen is Cecilia Sanchietti and "La Terza via"!"
RON SAVAGE (Dean, Performance Division, Berklee College of Music)
Ecco cosa è il jazz: la musica che raggiunge le pieghe profonde dell'anima, la musica che innalza e fortifica lo spirito, fa luce nell'oscurità, trasforma la disperazione in speranza, guarisce le nostre ferite e riporta l'amore al più intimo livello. Signore e Signori, questa è Cecilia Sanchietti e "La Terza Via"!
RON SAVAGE (Dean, Performance Division, Berklee College of Music)

DIGITAL STORES
 iTunes, AMAZON, SPOTIFY
Cecilia Sanchietti is an Italian drummer and composer, art director of WInJazz – Women In Jazz festival and an experienced percussion teacher. In 2017 she was awarded by Sabian percussion brand as weekly winner of NYC "Hit Like A Girl", the sixth annual global drumming contest for female percussionists. In 2009 she was awarded like outstanding musician by "Berklee College of Music" (Boston).  She released two albums under her own name in 2018 and 2015 with BluJazz (Chicago) and Alfa Music with international tours. Reviews by Downbeat, All About Jazz, Musica Jazz and more.
She collaborated and performed with (among which): Marco Siniscalco, Pierpaolo Principato, Nicolas Kummert (BG), Alex Woods (NYC), Lela Kaplowitz (HR), Igor Gehenot (BG), David Boato, Stefano Scatozza, Federica Zammarchi, Pierpaolo Ranieri, Antonello Sorrentino, Enrico Zanisi, Stefano Rotondi, Paolo Tombolesi, Giorgio Cuscito, Gianluca Massetti, Adriano Urso, Francesca Tandoi, Caterina Palazzi.
She also collaborated with Javier Girotto, Rita Marcotulli, Giovanna Marini, Nada, Lucilla Galeazzi, Cristina Comencini, Lunetta Savino, Gabriella Aiello, Andrea Satta, Raffaella Misiti, like member of "Orchestra del 41esimo parallelo".
Other important collaborations in pop and theatres: Carmen Consoli and Luca Madonia, Fabio Abate, Marco Rea, Movin Melvin Brown, Mariangela Aruanno.
Just don't give up trying
to do what you really want to do.
If there is love and inspiration, 
I don't think you can go wrong.
(Ella Fitzgerald)